SDSF e-Newsletter
SDSF e-Newsletters
To view a copy of our latest e-Newsletter, click on the e-newsletter icon below.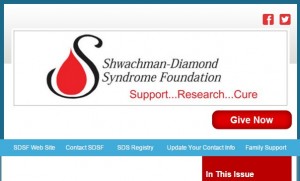 To view an archive of previous e-Newsletters, visit our Newsletter Archive page.
If you're interested in receiving a copy of our e-Newsletter in your e-mail inbox, please fill out the form below.
Sign Up for Our e-Newsletter:
Please note that if you have "Registered as a New Patient," then you are already signed up to receive our e-newsletters. If you are registered with the SDSF and are currently not receiving them, please update your contact information with the Shwachman Diamond Syndrome Foundation.